Our Vineyards
We couldn't grow the grapes we do without our lake.
Seneca Lake's massive depth (over 600 feet!) retains heat, keeping the surrounding soils warmer in winter and cooler in spring, protecting delicate varieties that would otherwise freeze. In fact, the uniqueness of the soil, climate and growing conditions, or terroir, have earned "Seneca Lake" a position as a unique wine growing appellation region apart from the Finger Lakes.
Our vineyards are located in the southern portion of Seneca Lake, affectionately referred to as the "banana belt" region of the Finger Lakes. This area is a micro-climate within a macro-climate, warmer than any other spot in the region, allowing more challenging varieties the opportunity to grow and ripen.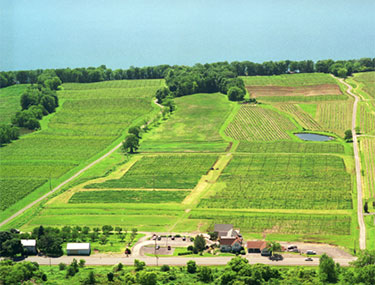 Currently planted with eighteen varieties of vinifera, hybrid and native grapes, we embrace the challenges of cool-climate viticulture as each season brings new issues to tackle and encourages ideas to grow. Our vineyard philosophy is committed to providing sustainable viticulture practices that enhance the quality of the fruit and the earth it stems from.
Click Here for a PDF of our vineyard map
---
Beautiful winter sunset over our vineyards.

filmed by Wes Lobdell